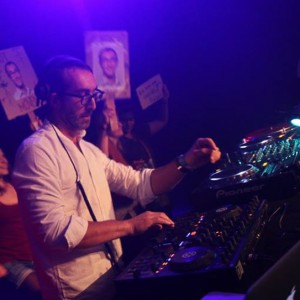 I had the great pleasure and honour to play again last Thursday at the Halle02 in Heidelberg for the 5 yeat jubilee of the Professorennacht. Always a real pleasure to play there! Despite the cold and the rain the atmosphere was exceptional and the crowd absolutely awesome. I had great time to play and judged from the crowd reaction, it was a blast!
Oh, and I won that little trophy 😉
Some  pictures of the event, as well as the live recording of the set (and the track listing).
Big thanks go in particular to all the friends & students there for their support and making so much noise! Thanks also to Korny West (Heidelberg) & CANIGGIA (Berlin) for  their great acts and Daniel and Gunnar from BlackboxEvents for the flawless orga.
---
---
Tracklisting:
1-Hey Boy, Hey Girl | Chemical Brothers.
2-Enter Sandman (Dirty Funker Voc remix) | Metallica.
3-Da Funk | Daft Punk.
4-Kingstonlogic | Terry Lynn.
5-The Looks | MSTRKRFT.
6-Rapper's Delight (Van She Tech Remix) | Dan the Automator.
7-Bulletproof (GAMPER & DADONI Remix) | La Roux.
8-Sweet Dreams (Cazzette meet At Night Mix) | Avicii.
9-Rave Is King (Le Castlevania Mix) | Fukkk Offf.
10-Friendly City | Milo & Otis.
11-Breakn' A Sweat (Zedd Remix) | Skrillex & The Doors.
12-Right Here Right Now | Fatboy Slim.
13-Gunn Crime (Streetlife Soundsystem Mix) | Streetlife DJs.
14-Around The World | Daft Punk.
15-Doctor Pressure (Radio Edit) | Gloria Estefan.
16-Dance Wid We (feat. Serocee) | South Rakkas Crew.
---
Download:
Halle02 november 2016 Live Set
---
---