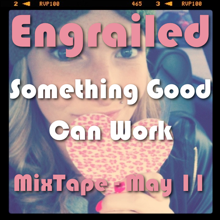 As usual, relax and enjoy this nice blend of tracks.
Like it? Say it, share it!
.
Track listing (48mins):
1-Something Good Can Work (RAC Remix) | Two Door Cinema Club.
2-Demons (Yuksek Remix) | Fenech-Soler.
3-Student Body (Bit Funk Remix) | LexiconDon.
4-100% [Treasure Fingers' B-LIVE Pemberton Mix] | Chromeo.
5-I Can See (DCUP Remix) | Jazzanova ft. Ben Westbeech.
6-Start Again (Jump Jump Dance Dance Remix) | The Aston Shuffle.
7-Not So Pretty (Feed Me Remix) | .
8-Supernova | Marchand.
9-Walking Away (Cosmonaut Grechko Version) | Druma Kina.
10-Tragedy | Display.
11-Sunlight (Armand Van Helden Remix) | Bag Raiders.
12-I Am Not A Robot (The Shoes Remix) | Marina & The Diamonds.
13-Happy Up Here (Breakbot Remix) | Royksopp.
14-Try Me (Jupiter Remix) | Anoraak.
15-All Night | Oliver .
16-Hour Of The Wolf (Lifelike Remix) | Adam Kesher.
17-Give Me Your Love (Fred Falke Club Edit) | Florrie.
18-Opposite of Love (North Lights ft. Perseus Remix) | AutoKratz.
19-Less Hate More Love | A-ux.
20-Audacity Of Huge (featuring Chris Keating) | Simian Mobile Disco.
21-We Used To Wait (Tronik Youth Patience Edit) | Arcade Fire.
22-Shades Of Black | Breakbot.
23-Township Funk (Crazy P Remix) | DJ Mujava.
24-Vox Populi [Lifelike Treatment] | Jupiter.
25-Without Lies (Breakbot Remix) | Aeroplane.
26-Sing It Back (Nacho Marco Remix) | Unclubbed feat. Lizzy Pattinson.
27-Groove Is In The Heart (Gigamesh Remix) | Deee-Lite.
28-Yeah Yeah Yeah | Pharao Black Magic.
29-CT | StardonE.
30-Lisztomania (feat. Jane Hanley) | Edwin Van Cleef.