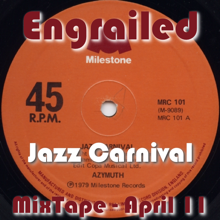 Ok, Ok I am late, but nevermind, it's still April and here is this month mix.
We will try something else this month: let's break the rhythm and enjoy some fresh tunes. I put up this mix because spring is back, sun is out, so let's groove and shake our butts. You'll hear everything in this mix: hip hop, funk, brass band, crazy stupid mashups, a video game soundtrack, some danceHall and a latino cover of a reggae song 🙂
So, pull out the sunglasses, wear a short and your Hawaian shirt, sit down, relax and enjoy…
Track Listing (36mins):
1-Frontier Psychiatrist | The Avalanches.
2-Smells Like Rockin' Robin | Go Home Productions.
3-Tightrope (featuring Big Boi) | Janelle Mon√°e.
4-Single Ladies (Put a Ring On It) | Beyoncé.
5-dem a pree (chrome YUM YUM edit) | mr lexx .
6-Rooty Tooty Rainbow Man | Busy P & Roots Manuva.
7-She's Got Me Dancing | Tommy Sparks.
8-Swagga | Beenie Man.
9-Good Life | Brassroots.
10-Marcellus | Light Year.
11-Fuck You | Cee-Lo Green.
12-Cash In My Pocket (Chew Fu Small Room Remix) | Wiley feat Daniel Merriweather.
13-Dance Wid We (feat. Serocee) | South Rakkas Crew.
14-Hot As Hell (Will Bailey Remix) | Drop The Lime.
15-Abrazame (Uproot Andy Remix) | Los Rakas.
16-Africa (chromes yum yum edit) | Hackney Colliery Band.
17-Black Bug | Wick-it the Instigator.
18-Mr Bigstuff | J-Roc.
19-Moving Da Royalty (Will Smith vs. Daft Punk) | Rad Bad.
.