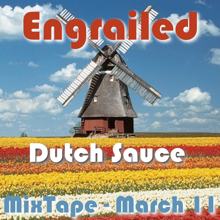 Big change for this month. Let's go pay a tribute to a specific genre of House music called "Dutch House". It's characterized by its monumental buildups and huge drops. It's meant to be played loud and perfectly suited to monster clubs with thousands of robotic dancers. As you could have guessed, that genre arose and is prominent in the Netherland but it reaches way beyond. Prominent figures of this scene are Laidback Luke, Afrojack, Swedish House Mafia, etc… Not necessarily the genre I like the most but I must give it credit: it is freakin' moving and catchy.
In this tape I gather a bunch of tracks either representative of the genre or that I felt blend in nicely and helped building a heavy, powerful and pounding set. Special thanks to Laidback Luke's Year Mix for the initial incentive to make this mix.
So, make space around you, crank up the volume, pop an E' and enjoy…
Track Listing (28mins):
1-Out Of Body (Original Mix) | Jack Beats.
2-One (Original Mix) | Swedish House Mafia.
3-White Noise Red Meat (Original Mix) | Dada Life.
4-Coda (Radio Edit) | St. Beethoven.
5-76 (Original Mix) | Zero.
6-Instant Moments | R.O.O.S..
7-Amsterdamn (Original Mix) | Afrojack Vs. The Partysquad.
8-Real High (Original Mix) | Afrojack & Bobby Burns.
9-Smack My Bitch Up (Max Vangeli & AN21 Bootleg) | Prodigy.
10-Acapella (Acapella Version) | Kelis.
11-Across The Light (Original Mix) | Swanky Tunes.
12-TimeBomb (Original mix) | Laidback Luke feat. Jonathan Mendelsohn.
13-Indestructible | Robyn & Laidback Luke.
14-Pon De Foley (Ludachrist Remix) | Major Lazer.
15-When I Dip ( Gianni Marino Legboot ) | Bingoplayers.
16-Internet Killed The Video Star | The Limousines.
17-Cal State Anthem (LAZRtag Remix) | PeaceTreaty.
18-Undertaker (Original Mix) | Wolfgang Gartner.
19-California Roll | Mightyfools.
20-Call My Name (Spencer & Hill Remix) | Sultan & Ned Shepard feat. Nadia Ali.
21-The Wildcat (Original Mix) | Porter Robinson.
.