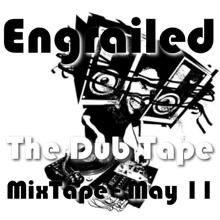 So here it is… I have been listening to quite a lot of dubstep lately and I pulled this quick mixtape to share some tracks I like.
Wikipedia defines Dubstep as: "originated in south London, United Kingdom (…) tightly coiled productions with overwhelming bass lines and reverberant drum patterns, clipped samples, and occasional vocals". It's characterized by syncopated low rhythm, dark coloration and heavy often wobbled bass lines.
It originated in the early 00's and has become increasingly popular over the last 5 years. Its influences reach even in to mainstream pop music (Britney S. and Madonna incorporated typical dubstep rhythm).
This mix features a couple of productions of prominent players of the field, Skream (and its trio with Benga and ArtWork as Magnetic Man), and Nero. I also put in a few nice remixes of classics for you to judge what "dubstepping" a track sounds like.
I must say that I selected relatively "mainstream" examples most featuring vocal parts, an unusual feature. Check releases by Kode9; Mount Kimbie and Skrillex (among many many others) for more.
So, as usual, relax & enjoy!
BTW, if you like what's this blog feature, join us on Facebook (see to the right).
Track listing (29 mins):
1-Perferated | Skream.
2-Your Song (Blackmill Dubstep Remix) | Ellie Goulding.
3-I3 U SO (Skream's Made Zdar Feel Like He Was 20 Again Remix) | Cassius.
4-Hot Mess (Dubstep Remix) | Chromeo.
5-Sweet Talk | Kito feat. Reija Lee.
6-Space Oddity (Captain Sebasto Remix) | David Bowie.
7-Getting Nowhere (feat. John Legend) | Magnetic Man.
8-Lights (Bassnectar Remix) | Ellie Goulding.
9-Time (Pretty Lights Remix) | Pink Floyd.
10-How Real (feat. Freckles) | Skream.
11-Ain't Nobody (Breakage Remix) | Clare Maguire.
12-Guilt | Nero.
.