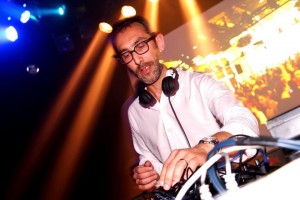 I had the great pleasure and honour to play last Thursday at the Halle02 in Heidelberg for the Professorennacht. The Halle02 is such a nice place to perform! And once again the place was full with more than 500 hysterical students. However, this time, the exercise was peculiar. Battle-style Sets of ~20mins and highly partisan crowd ;-). Not my usual thing, but I prepared an eclectic, kick-ass and energy packed set. I had great time to play and judged from the crowd reaction, it was a blast!
Below some pictures, as well as the live recording of the set (and the track listing).
Big thanks go in particular to all the friends & students there for their support and making so much noise! Thanks also to ThomMore (Heidelberg) & CANIGGIA (Berlin) for  their great acts and Daniel and Gunnar from BlackboxEvents for the flawless orga. Finally, I special thanks to Julian Halbeisen a very talented photographer that did a terrific job at covering the event. Get to know him here and here.
---
---
---
Live at Halle02 by Engrailed on Mixcloud
---
Tracks list:
1-Supermenz (We're Not) | Yuksek.
2-Guru Guro | Hey Today!.
3-4h30 | Danger.
4-Bang Bang (White Noise Dubstep Remix) | Nancy Sinatra.
5-Mama Said Knock You Out (Eskei83 Bangarang Bootleg) | Eskei83 x Skrillex & LL Cool J.
6-Careless Whisper (Van O Remix) | George Michael.
7-TimeBomb (Original mix) | Laidback Luke feat. Jonathan Mendelsohn.
8-Indestructible | Robyn & Laidback Luke.
9-Pon De Foley (Ludachrist Remix) | Major Lazer.
10-We Are Your Friends (Original Mix) | Justice & Simian.
11-Cityboy (feat. Jahdan Blakkamoore) | Alo Wala.
12-Rolling to the Eye of the Tiger (Engrailed live mashup) | Deep Purple x Survivor x Adele x Chemical Brothers x Beastie Boys
13-Rocky I: Theme from Rocky Gonna Fly Now | The Studio Sound Ensemble.
14-Dark Fantasy | Kanye West.
15-Turn Down for what | DJ SNAKE & LIL JON.
16-Black Betty | Ram Jam.
17-Finder | Ninetoes.
18-Apache | Sugar Hill Gang.
19-Like I Love Walking (Engrailed live mashup) | Justin Timberlake x White Stripe x Michael Jackson x Aerosmith ft. RUN DMC
20-Magnum Theme (Zombie Kids Remix) | Zombie Kids.
21-Let's Do It Again | J. Boog.
---
---