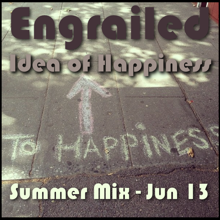 Very busy lately, so not much time to assemble this mix. Great set of tracks put together. Relax & enjoy.
.
MixTape Idea of Happiness by Engrailed on Mixcloud
Track listing (54mins):
1-Flutes | Hot Chip.
2-Don't Stop | Gigamesh.
3-Call It What You Want (BIGkids Remix) | Foster The People.
4-Kiss (Disco Tech edit) | Prince.
5-Settle Down (Kreap's Jazzology Mix) | Kimbra.
6-Thought We Were Alone (Gadi Mizrahi & Eli Gold Money vs. Gold Remix) [feat. Milosh] | Lucky Paul.
7-The Bay Wax Cotton's Remix | Metronomy.
8-Idea of Happiness (Robotaki Remix) | Van She.
9-Self Control | Raf.
10-Fringe Element (Short Like Me Edit) | Beni.
11-Say What You Want | Cosmonaut.
12-Stars Above | David Keno.
13-Household Goods (Justin Martin Remix Edit) | T.E.E.D.
14-If You Give Me The Love I Want | Crydajam.
15-Little Talks (The Knocks Remix) | Of Monsters & Men.
16-I'am What I'am (Freak You remix) | Mark Morrison.
17-I Feel Love | Donna Summer.
18-Donnastag | Boys Noize.
19-Bang Bang | Betty Chung.
20-Beat Dis | Bomb The Bass.
21-Guru Guro | Hey Today!.
22-4h30 | Danger.
23-Let the Beat Control Your Body (feat. Louisahhh!) | Brodinski.
24-Motorcycle (Wet Clutch Short Edit) | Alex Gopher.
25-Heart Is King (Original Mix) | Axwell.
26-That's The Way Love Is | Ten City .
27-Love Signs | Synthetic Jacques.
28-Paradise (On Earth) | Cris Cab.