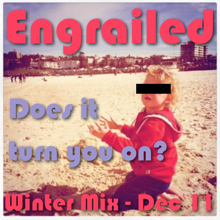 So fall was super busy, and here is finally the new mixtape. A bunch of very nice tracks elegantly mixed in a 40mins and energy packed set. You know the drill… Relax & enjoy.
Track listing (40mins):
1-Jack On The Moon | Carte Blanche.
2-Gasoline Fire | Slice & Soda, Para One & San Serac.
3-The Sound Of Violence (Aeroplane Remix) | Cassius.
4-What You Need (Hey Champ Remix) | Priors.
5-Heartbeats (Rex The Dog Remix) | The Knife.
6-Heads Will Roll (A Trak Remix) | Yeah Yeah Yeahs.
7-Tell U Y (Chris Lake Remix) | ATFC feat Yasmeen.
8-Last Friday Night (T.G.I.F.) (Laidback Luke Bootleg) | Katy Perry.
9-Let You Go (Feed Me Remix) | Chase & Status.
10-The Drill | Gui Boratto.
11-Feel | Jackdied.
12-Lunar (Original Mix) | David Guetta & Afrojack.
13-Calling (Original Instrumental Mix) | Sebastian Ingrosso & Alesso.
14-Disque Oh! (Eumig & Chinon Remix) | BeatauCue.
15-Rave Is King (Le Castlevania Mix) | Fukkk Offf.
16-Won't Let You Down (Albin Myers Remix) | Hagenaar & Albrecht.
17-Is You (Le Castle Vania Remix) | D.I.M..
18-Airbeat Army (Arena Instrumental Mix) | Airbeat One Project.
19-My Lady Don't Mind (Modek Remix) | Blatta Inesha.
20-Don't Believe The Hype (Original Mix) | Boys Noize.
21-Animal Rights | Deadmau5 feat. Wolfgang Gartner.
22-Violins of Donau (Original Mix) | John Dahlback.
23-Runaway (Alan Braxe & Fred Falk remix) | Jamiroquai.
24-Does it turn you on? | Almanach.
25-Idealistic (A Trak Remix) | Digitalism.
26-The End (Original Mix) | Tommy Trash.
27-Joshua | Japanese Popstars, The.
28-Beggin' (Pilooski Re Edit) | Frankie Valli & The Four Seasons.
.