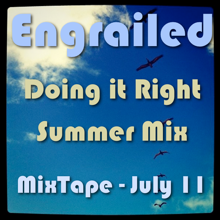 You're up for a treat this month: 42 smashing tracks packed in a 49 mins mix. All tracks are my current absolute favorites. House, electro, dutch, pop, funk, hip-hop this is a big fat musical orgy.
Stay tuned, another BIG surprise coming up in the next days…
As usual, relax, crank up the volume and enjoy!
.
Alternate: Listen to the mix on Mixcloud:
Track listing (49mins):
1-Hot Streak Body Work | Breakin' OST.
2-Love Dealer (Chew Fu Extended Mix) | Esmee Denters.
3-STUPID BITCHES DatA remix | DSL.
4-Two Sisters | Headman.
5-Short Circuit | Daft Punk.
6-Slow (Chemical Brothers Remix) | Kylie Minogue.
7-Let's Dance | David Bowie.
8-Give Me the Beat | Ghostland Observatory.
9-Diesel Power | The Prodigy.
10-When We Were Young (Breakbot Remix) | Sneaky Sound System.
11-Lisztomania (Alex Metric Remix) | Phoenix.
12-Never Let Me Go (Aeroplane Remix) | The Human League.
13-Twist | Peter & The Magician.
14-Blue Monday (Patrick Wayne Remix) | New Order.
15-Getting High (Original Mix) | .
16-Pop Muzik (Don Rimini Remix) | M.
17-Sabali (Vitalic Remix) | Amadou & Mariam.
18-Love Get Out Of My Way (Benny Benassi Remix) | Monarchy.
19-Master & Slave (Van She Tech Remix) | Vandroid.
20-Drumming Song (Jack Beats Remix) | Florence And The Machine.
21-Titans (Denzal Park Remix) | James Ash.
22-Open Your Eyes (Original Mix) | Alex Metric & Steve Angello.
23-Drifted (Bass III Euro Remix) Master | Diyana.
24-New people in town (Francophilippe's midnight cruiser remix) | Amari.
25-Save the World (Extended Mix) | Swedish House Mafia feat. John Martin.
26-Say Captain Say Wot | Captain Jack.
27-Magnum Theme (Zombie Kids Remix) | Zombie Kids.
28-Beards Again | MSTRKRFT.
29-Blitz | Digitalism.
30-Rave Is King (Le Castlevania Mix) | Fukkk Offf.
31-Say My Name Original Mix | Porter Robinson.
32-Bulletproof (Glasnost Remix) | La Roux.
33-Derezzed (Bright Shades Rework) | Daft Punk.
34-Plugged | Ado.
35-Intro (Bart B More Edit) | Alan Braxe & Fred Falke.
36-My Enemy (Rex The Dog Remix) | Aeroplane.
37-Sleep Deprivation | Simian Mobile Disco.
38-Feromonikon | Siriusmo.
39-Nexx | Zinc.
40-Antigalactic Mumbai Science Remix | MixHell.
41-Doing it Right (Engrailed rework) | Afrojack vs John Legend.
42-Fight Club Is Closed (It s Time For Rock n Roll) | Dada Life.